There's a new way to access con­tent on hoopla using your DeKalb Coun­ty Pub­lic Library card! hoopla BingePass gives you unlim­it­ed access to two types of great online con­tent for 7 days — all with a sin­gle hoopla borrow.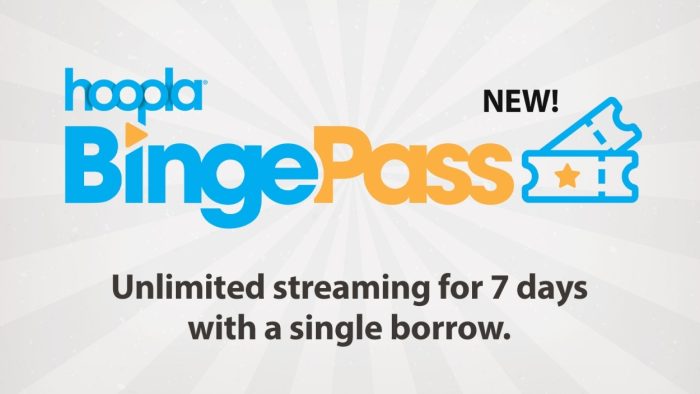 Trav­el­ing for the hol­i­days? Load up your phone or tablet with cur­rent issues of 50+ pop­u­lar and in-demand mag­a­zines with the hoopla Mag­a­zines BingePass. From health to home décor, busi­ness to bak­ing or any­thing in between, there's a mag­a­zine you'll love. With a read­ing expe­ri­ence designed specif­i­cal­ly for dig­i­tal use, it's easy to read hoopla Mag­a­zines on a mobile device or your com­put­er, and you can even lis­ten to the articles!

Love life­long learn­ing? Browse the Great Cours­es Library Col­lec­tion BingePass for access to hun­dreds of the most pop­u­lar cours­es. Use one bor­row to access one or mul­ti­ple cours­es – what­ev­er you choose. Each course is bro­ken into mul­ti­ple easy-to-watch video lessons so you can choose how much you want to learn at a time from a wide a range of top­ics, from Art to Zool­o­gy. With The Great Cours­es, there's nev­er any home­work, tests, or pres­sure – just in-depth instruc­tion from some of the world's great­est professors.
Sign­ing up for hoopla dig­i­tal is easy! Just vis­it hoopladig​i​tal​.com or down­load the app on the App Store or Google Play and have your library card handy.